Direct Drive Forward Curve Blowers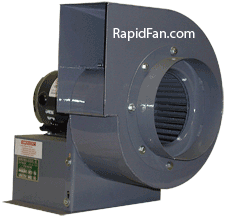 Click to View our PDF brochure of our Direct Drive Forward Curve Blowers
Sizes
6" to 12" Wheel Diameter
Performance
Airflow from 395 to 2455 CFM
Static Pressure up to 2.75" w.g.
Application
Used extensively for general ventilation of small areas where duct systems are required. Used for washrooms, restaurants and small hood exhaust. Slow speed units extremely quiet where noise is a factor.
Material
All direct drive blowers are available in mild steel, stainless steel and aluminum construction.
Features
Steel welded housings and bases. Wheels are dynamically balanced and equipped with cast iron hubs, ranging in sizes 6" to 12".