Forward Curve Plug Fans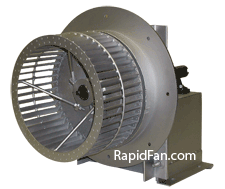 Sizes
9" to 30" Wheel Diameter
Performance
Airflow from 400 to 24,000 CFM
Static Pressure up to 5" w.g.
Material
All plug fans are available in mild steel, stainless steel and aluminum construction.
Application
Forward Curve Plug Fans are designed for O.E.M. users. Applications where the fan must become an integral part of the equipment being assembled.